One World Lithium Releases Additional Geochemical Results From Its Salar Del Diablo Lithium Property In Mexico
One World Lithium Inc. (CSE-OWLI) (the "Company")
______________________________________________________________________
VANCOUVER, BC – JULY 03, 2018 – ONE WORLD LITHIUM INC. (CSE:OWLI) (the "Company") is pleased to announce geochemical sampling results from the Company's Salar del Diablo lithium property in Baja California, Mexico. These geochemical results that are in addition to previous results outlined in the Company's news release of April 11, 2018 in which statistical analysis indicated lithium values ranging from low 4.7 to high of 196.5ppm. The average lithium value was calculated as 83.65 ppm with the median being 75.75 ppm lithium.
The values for sodium (Na), potassium (K), magnesium (Mg), iron (Fe), boron (B), and strontium (SR) are shown in the accompanying table. Sodium as high as 3% and potassium as high as 1.9% broadly mirror and confirm the distribution of anomalous lithium values. It is significant to note the low magnesium values averaging 1.1% is a positive result as high magnesium values will make lithium recoveries more expensive.
Because boron as high as 400 parts per million (ppm) and strontium as high as 10,000 ppm are typically elevated in geothermal waters and are a confirmation of the presence of high heat flow and probable geothermal waters in the basin. In addition, rock samples taken from tufa mounds (hot spring deposits) found during January 2018 exploration in the salar are arranged in a linear fashion, strongly suggesting former geothermal spring activity along a now-sealed fault.
Doug Fulcher, CE0 and President of the Company noted "The recent results from the geochemical, geophysical, and geological programs are more encouraging than expected. We look forward to compiling all the data to focus on the 4,000 meter drilling program to test coincidental targets."
Please refer to the tables below that include assay results for boron, strontium, sodium, magnesium and potassium.
The Company expects the final geophysical report by July 10, 2018. As previously reported on Tuesday, June 26, 2018, SJ Geophysics reported a thick part of the Salar beneath the main salt flat covers approximately six square kilometers, which is highly conductive, and the thick part is estimated to be over 100 meters thick. A less conductive part of the Salar that is likely thinner covers approximately 24 square kilometers and is open ended beyond the present extent of the geophysical grid. This conductive layer appears to extend outside of the main salt flats suggesting that there is a highly conductive zone that underlies most of the grid.
On receipt of the final geophysical report, data from the recent geophysical, geochemical, and geological recent programs will be compiled to select drill site locations. The Company plans to drill 4,000 meters totaling 15 holes from the drill site locations.
Mr. Fulcher and the One World Lithium team invite interested parties to visit the Company's new website at www.oneworldlithium.com.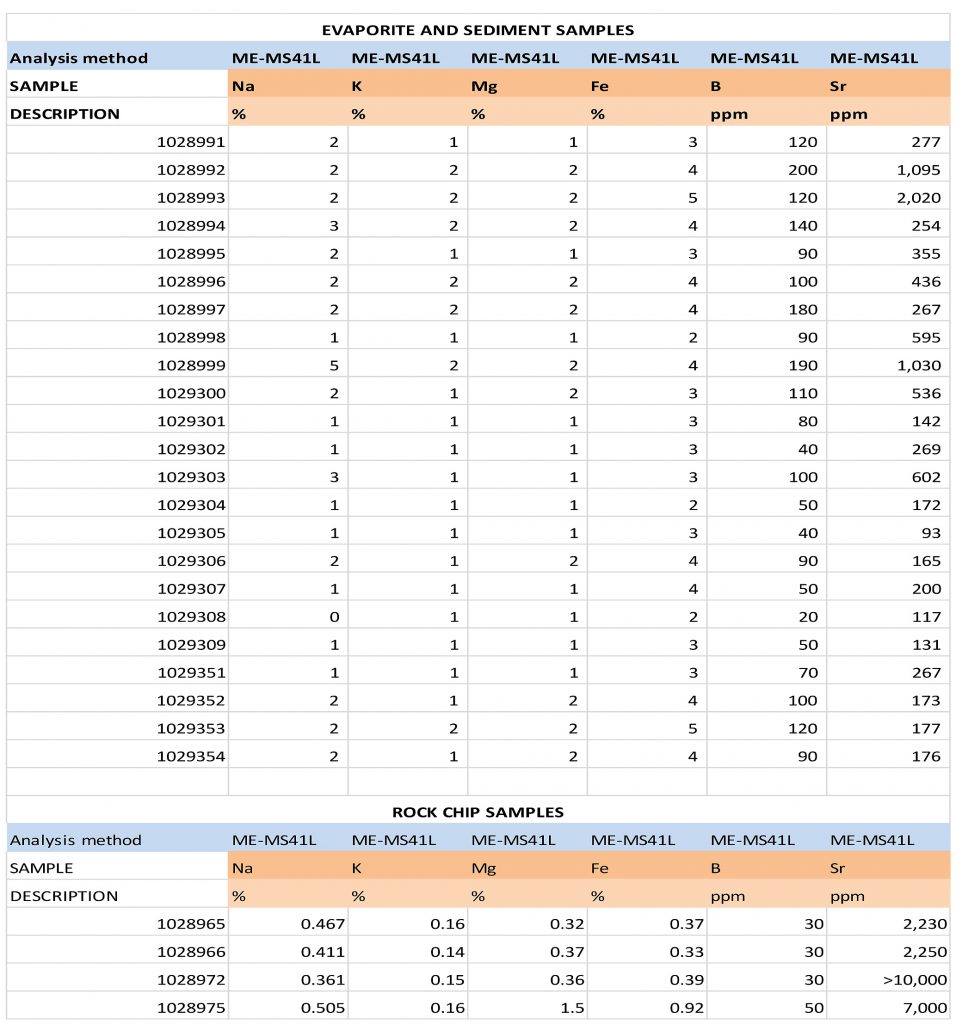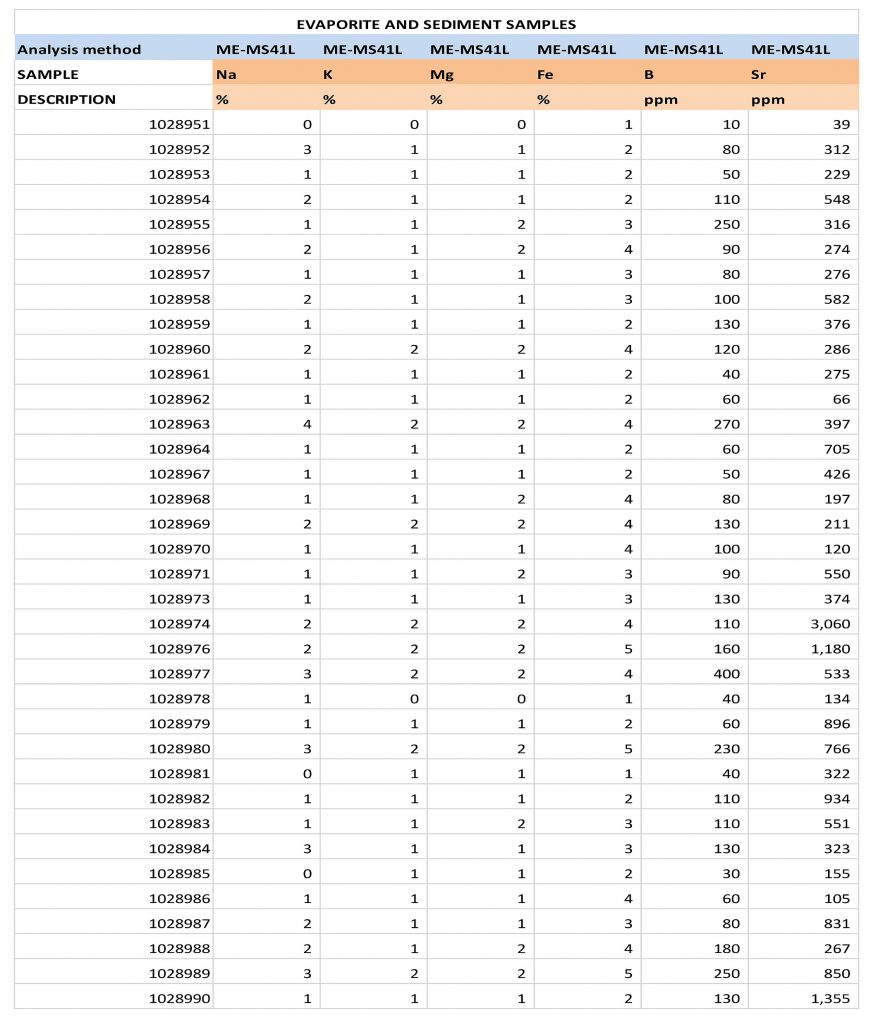 John E. Hiner, SME Registered and a Qualified Person as defined by National Instrument 43-101, has reviewed and approved the scientific and technical disclosure contained in this release.
-END-
About One World Lithium Inc.
One World Lithium Inc. ("OWL") an exploration Company is focused on exploring and developing lithium projects of merit. It currently has an option to acquire up to a 90% working interest in the 75,400 hectares or 754 square kilometers) Salar Del Diablo Property located in Baja California Notre, Mexico.
On behalf of the Board of Directors of One World Lithium Inc.,
"Douglas Fulcher"
Douglas Fulcher, President and CEO
For further information, please contact:
Darren@oneworldlithium.com and/or visit www.oneworldlithium.com
Forward-Looking Information: This press release may include forward looking information within the meaning of Canadian securities legislation concerning the business of the OWL. Forward looking information is based on certain key expectations and assumptions made by the management of the OWL, including the intention of OWL to proceed with the advancement of the Property and intentions regarding the proposed exploration and drill programs. Although OWL believes that the expectations and assumptions on which such forward looking information is based are reasonable, undue reliance should not be placed on the forward-looking information because OWL can give no assurance that they will prove to be correct. Forward looking statements contained in this press release are made as of the date of this press release. OWL disclaims any intent or obligation to update publically any forward-looking information, whether as a result of new information, future events or results or otherwise, other than as required by applicable securities laws. There can be no assurance that such statements will prove to be accurate and actual results and future events could differ materially from the those anticipated in such statements, important factors that could cause actual results to differ materially from the company's expectations include: (I) inability of OWL to execute its business plan and raise the required financing and (II) risks and market fluctuations common to the mining industry and lithium sector in particular. The reader is cautioned that assumptions used in the preparation of any forward-looking information may prove to be incorrect. Events or circumstances may cause actual results to differ materially from those predicted, as a result of numerous known and unknown risks, uncertainties, and other factors, some of which are beyond the control of the OWL. The reader is cautioned not to place undue reliance on any forward-looking information contained in this press release.
Neither the Canadian Securities Exchange nor its Market Regulator (as that term is defined in the policies of the Canadian Securities Exchange) accepts responsibility for the adequacy or accuracy of this release