The Salar del Diablo is a 75,400 hectare (754 square kilometers or 290 square miles) property that covers a large closed basin. Eighty three surface samples were taken over 110 kilometers and all 83 samples assayed for lithium. The samples have an average grade of 78 parts per million (ppm) lithium with the lowest grade of 15 ppm and the highest grade of 188 ppm. The Property has all five prerequisite geological conditions required to find lithium in a brine basin.

One World lithium has focused on the northern third of the property and has completed surface geochemical and Time Domain Electromagnetic surveys. Coupled with geological mapping and additional sampling this work may identify drill targets.  The geochemical survey delineated a large lithium anomaly. Numerous hot springs and faults occur in the immediate area.  One World Lithium intends to complete, analyze, and release all results shortly.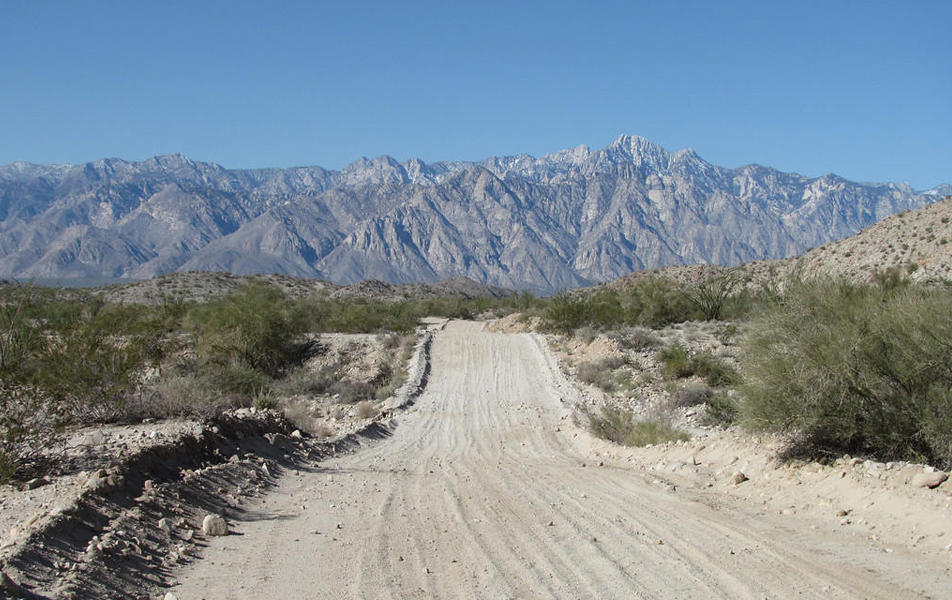 The San Pedro Martir Mountains rise over 10,000 ft from sea level and are part of the young fault complex that traverses the Valle del Diablo basin.
Five Geological Conditions to Create Lithium in Brine
A closed basin, meaning that there is no exit for fluids;
Presence of hot springs throughout the basin;
Rhyolite volcanic rocks high in lithium;
Active faults that could transport lithium from the source to the salar basin that also trap the lithium in brine solution which may concentrate the lithium over time; and
A regional high heat flow.
Located in Baja California Norte, Mexico

75,400 hectare property covering a large closed basin

No known environmental or permitting impediments for exploration

No known residents within the claim

Mining friendly jurisdiction

Pre-drilling exploration programs completed including geochemical sampling, geophysical surveys, and satellite image analysis

Likely followed by a 4,000 meter drilling program
Geophysical survey identifies three major conductive zones that likely contain brine which cover over 60 square kilometers and are open ended.
The Geophysics final Interpretation Report defined three very large and highly conductive zones. SJ Geophysics conducted a Volterra TEM in loop survey located within the northern third of the property. The survey covered approximately 150 square kilometers, which constitutes about 20% of Salar del Diablo claim block.
Syd Visser, President of SJ Geophysics Ltd. wrote "The survey's objective was to delineate changes in conductivity that could represent conductive layers. The Salar del Diablo was considerably more conductive than expected." As in other salars in North and South America that are in production or advanced exploration, the conductive layers could represent saline brines, which may contain elevated concentrations of lithium.
The three zones total more than 60 square kilometers with two zones remaining open to north and south.
On receipt, the final geophysical data will be compiled with both the geochemical and geological data to allow selection of drill locations.
Doug Fulcher, One World Lithium's President and CEO noted, "The final geophysical interpretation show excellent results that are better than expected. We are extremely pleased to see the geochemical, geological, and geophysical surveys have now all shown positive results. We look forward to the 4000 metre drill program in the fall of this year."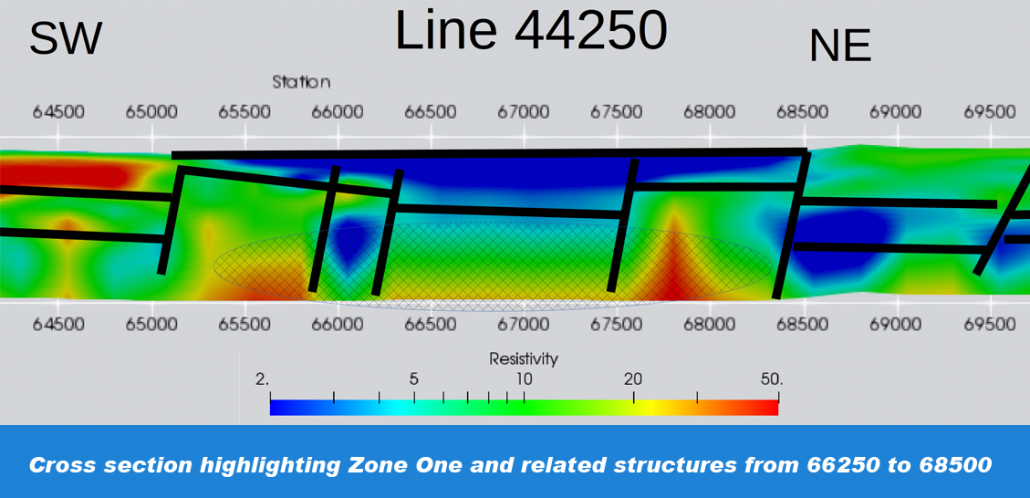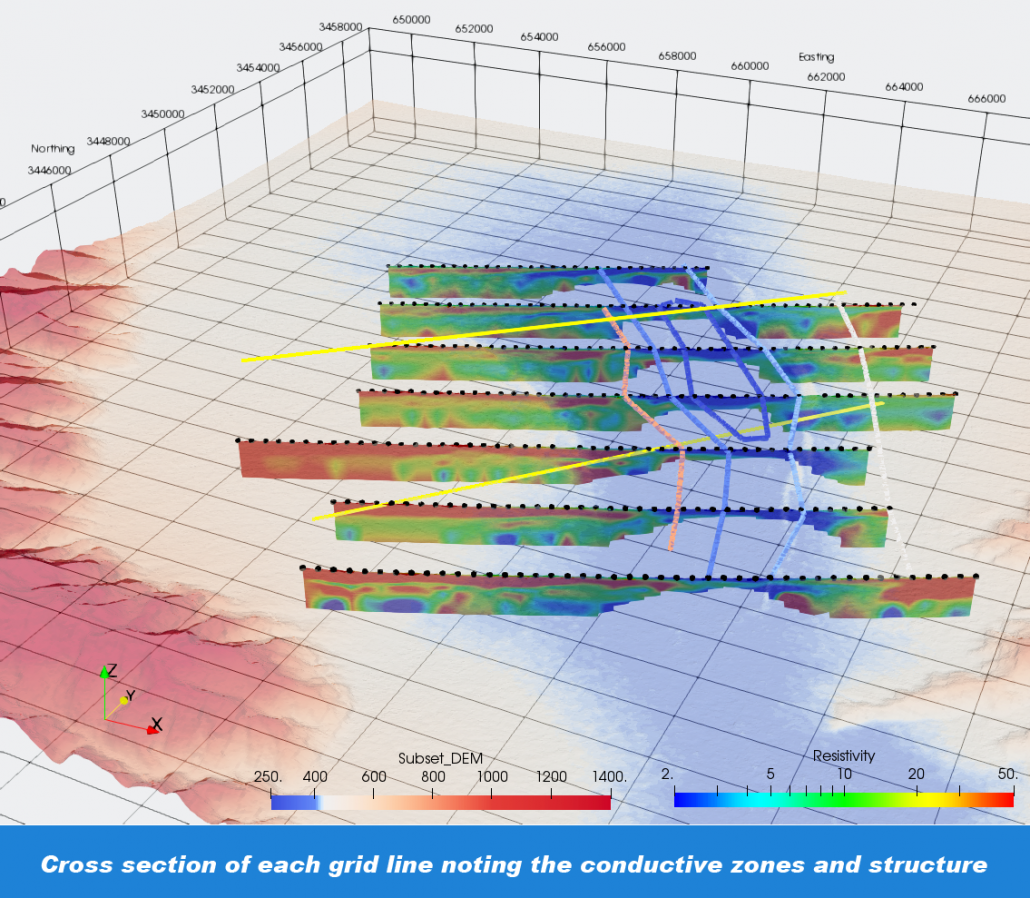 Syd Visser, President of SJ Geophysics noted "The Salar del Diablo was considerably more conductive than expected. The conductive layers could represent saline brines which may contain elevated concentrations of lithium."
Is highly conductive with values less than one ohm meter (1 ohm.m means very low resistivity);
Is likely more than 100 meters thick. The survey did no resolve the bottom of the layer due to the extremely high conductivity;
Is six kilometers square; and
There may be two interpreted structures (both yellow lines) at the northwest and southeast ends that may constrain the highly anomalous Zone one.
Zone Two surrounds Zone One;
Is less than 100 meters thick;
Is also very conductive with reading of 2 ohm.m which is an average of a low of 1.5 ohm.m and 5 ohm.m;
Covers 24 square kilometers, which includes Zone One in the center; and
Is open ended to both the north and south beyond the survey grid.
Is a continuously conductive layer located beneath a resistive surface.
Is both east and west of Zone Two. Interpretation suggests the west side has likely been down faulted and may be originally related to Zones One and Two;
Is located at 300 meters deep at the south end and shallows to 200 meters as the overlying sediments decrease in thickness;
Is estimated to be approximately 200 meters thick;
Is continuously conductive with ohm.m varying between 5 and 10 ohm.m;
Is open ended to both the north and south off the grid; and
Is more than 30 square kilometers.
The property extends over a salar where surface samples were taken over a distance of 110 kilometers, which samples contain a low of 15 to 188 ppm lithium with an average grade of 78 ppm.  The 83 samples were taken 18 inches from the surface by an auger. These samples contained surface salts and sediments and were not taken from brines. The samples also contain 1.9% potassium on the property that could be a profitable by product.
The basin has all of the geologic attributes necessary to host lithium in brines, including recent tectonic and volcanic activity; local hot springs; young rhyolitic volcanic lavas; high heat flows within the region; and ash flow tuffs neighboring and within the basin. 
There are paved roads from the project area to the USA border 85 miles to the north, regional power lines crossing the property, and the Salar del Diablo is 25 miles from San Felipe, Mexico, which has a sea port as well as a regional service center to meet the needs of exploration and development programs.
Due to One World Lithium's decision to concentrate on lithium, the option agreement to purchase a 100% interest in the Mogollon silver and gold property has been terminated. 
PHASE TWO SUMMARY REPORT
The Drilling Program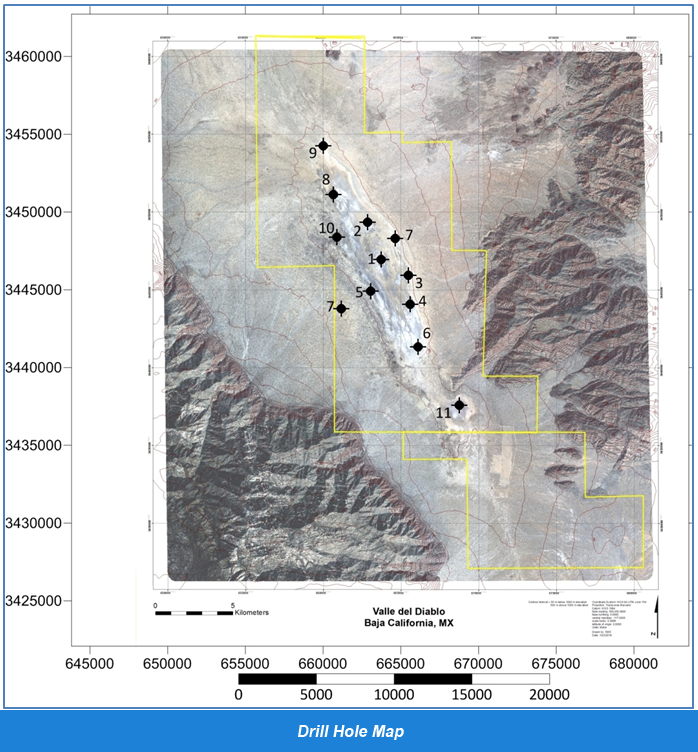 11 drill hole locations have been selected to test all three geophysical anomalous zones as well as two geochemical targets, which will require at least 4,000 meters of reverse circulation drilling. All the holes are placed near to interpreted geophysical and geochemical structures to test both the structural setting of the basin as well as the potential existence of aquifers that may contain lithium. The Company plans to drill in the later part of October 2018.
Drill holes 1 and 2 will test geophysical zone 1.  Drill holes 3,4, and 8 will test geophysical zone 2 and drill holes 5 and 6 in its southernly extensions.  Drill holes 7 and 10 will test both geophysical zones 2 and 3.  Holes 9 and 11 are sited to test the geochemical anomalies that are external to the geophysical survey footprint.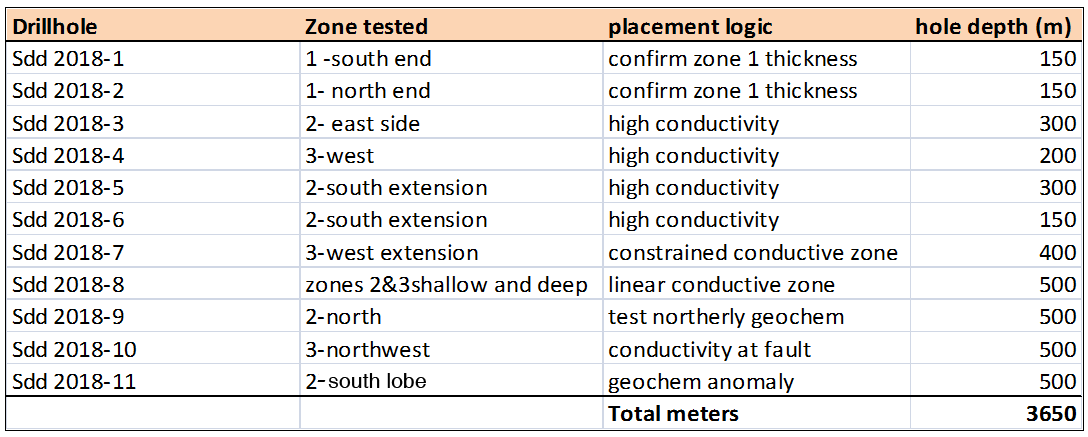 The drilling program includes permitting, site preparation, drilling and testing to discover potential aquifers, and then determine the aquifers thickness, permeability, porosity, initial flow rates, sustainable flow rates, sampling, lithium and related mineral grades.
The cost of drilling and testing is estimated at US$ 640,000.
Additional programs will include a gravity survey to establish basin configuration, a time domain electromagnetic surveys to close the open ended conductive zones 2 and 3; a pre-feasibility study, and a second pre drilling program to evaluate the remaining 80% of the Property, which includes the southern most third of the property.
Geological Summary
A geological map has not been completed.  However, evaluation of satellite data, geophysical data, known tufa mounds and outcrops indicate significant intra basin structures exist that include faults in bedrock outcrop outside the basin that trend into the Salar.
There are north-south active faults, which are translational strain responses to the opening of the Gulf (of California) as well as linears that are likely cross faulting throughout the basin and adjacent bedrock outcrops.
There are two evident features:
1.)  the geophysical zone 1 appears to be constrained at the north and south ends of the survey area by a significant increase in cross faulting; and
2.)  the cross faulting appears to dominate the east side of the basin and bedrock complex. These features suggest the conditions may exist to concentrate brines.
John E. Hiner, SME Registered Member and a Qualified Person as defined by National Instrument 43-101, has reviewed and approved the scientific and technical disclosure on this web page.